Fish Tugs of the Greatest Lake
QUEEN OF BAYFIELD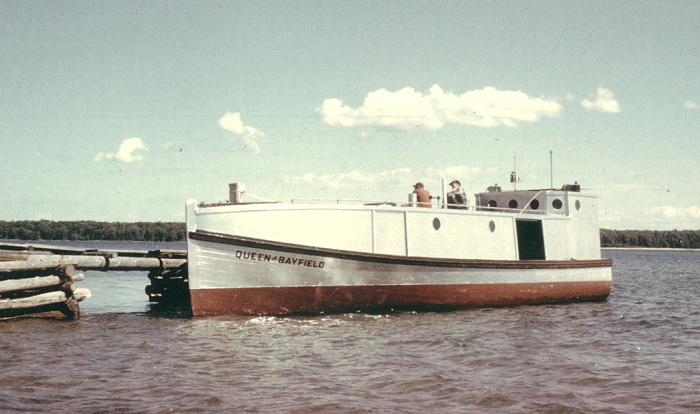 Built at Bayfield during the winter of 1940-1941 by LeBel Brothers, for Chris J. Hadland. The 40 ft. x 11 ft. vessel was initially equipped with a 60 hp. 4 cylinder Kermath gasoline engine as the main power, located on center. To the starboard a 6 cylinder 1939 Chevrolet car motor was used as a second source of propulsion, and to drive the net lifter.
In 1944 the Kermath was replaced with a Chrysler Crown marine gas engine with a 2 :1 reduction gear turning a 24 x 24 wheel. In 1946 the Chevrolet engine was removed, and a new net lifter equipped with a air-cooled engine was installed.
Operated by the Hadland family until 1967, the boat was then sold to Leonard Peterson. In 1970 Leonard sold the boat to his brother, Martin Peterson, who operated with her until 1982, when he sold her to the Red Cliff Chippewa, for use as a Fishery Research vessel. The boat was then re-powered with a 6 cylinder turbocharged Perkins diesel. As of 2007, it could be seen sitting on land behind the Red Cliff tribal fish hatchery, off Highway 13, but the Queen was finaly scrapped some time before 2014.
Photo: QUEEN OF BAYFIELD, 1962.
All contents copyright 2002-2016, Harvey Hadland and Bob Mackreth