Fish Tugs of the Greatest Lake
The Evolution of Fish Boat Design
at Bayfield, Wisconsin
by Harvey Hadland
PART TWO
When permanently enclosed cabins became the accepted design, the forward deck and stern deck were open. As most of the boats operated from island fishing stations, and were moored in permanent anchors overnight, the open bow was a handy feature. Windows, and a door on the front of the cabin, also enhanced visibility.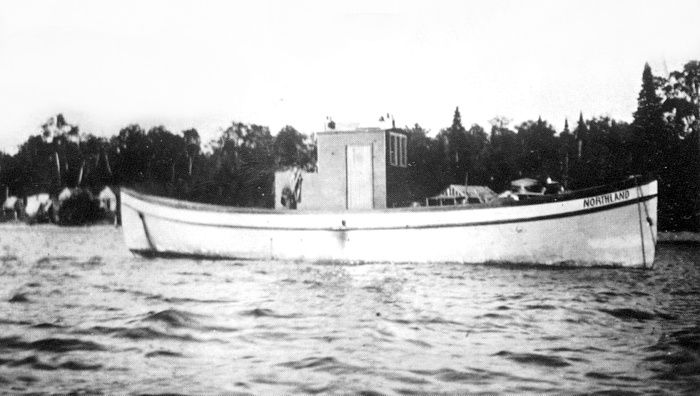 Open decks: NORTHLAND at Rocky Island
Most of the boats during these years were twenty-five to thirty foot in length. For many years twenty-six feet was considered an ideal size. By the third decade of the twentieth century, most all boats that were operating had adapted the solid frame cabin, with varying sizes of side openings(gangways), but no pilothouses. All steering, while underway, was done from the open stern deck. The next evolutionary change was to go to a pilothouse over the engine space, a great improvement from having to stand out in the open.
By the mid to late 1930s, larger boats, 35 to 40 feet in length, were being built. These boats featured pilothouses amidship, and were housed in all the way to the bow. By this time much of the fishing was on the outside banks, where more severe weather was encountered, so what came to be known as a 'sprayhood' bow was a necessary addition.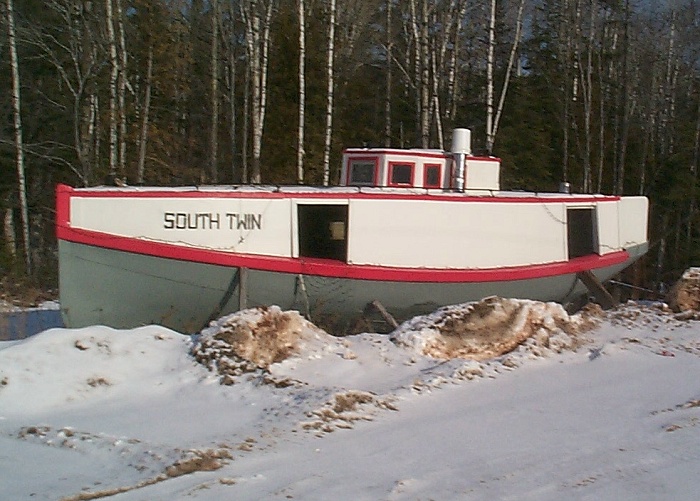 Midships pilothouse and sprayhood bow: SOUTH TWIN on display at Red Cliff.
In 1930 a new design was introduced when the 35 ft. STRANGER was built. Ted Bainbridge had moved to Bayfield from Marinette, Wisconsin in the late 1920s, and fished with his boat SILVER LEAF, a boat much like the local boats. When he had his new boat built, he adapted a design that was popular on Green Bay and Lake Michigan.The STRANGER was fully enclosed, featuring a raised pilothouse on the square stern, the first boat of this design to be built at Bayfield.
Few local fishermen adapted this design, however. When they had new boats built, they stayed with the open stern and midship pilothouse. It wasn't until the 1950s, when some of the boats were rebuilt, that the stern pilothouse was adapted, and indeed became popular.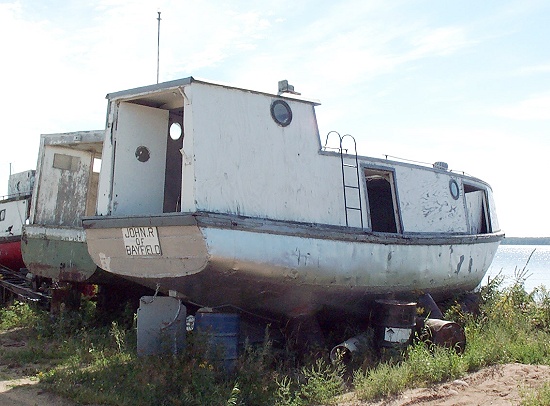 Aft pilothouse: JOHN R. at Bayfield, 2001.
The last boats to be built locally, in the late 1940s, were still of the traditional open stern type. By then the local builders were no longer in business. Fishermen looking to acquire larger boats had to go to the lower lakes to find replacements for their aging craft, and boat building became a thing of the past at Bayfield.
All contents copyright 2002-2016, Harvey Hadland and Bob Mackreth